Arizona Alpha Pi Beta Phi

Pledge Classes 1963 to 1965
100th Anniversary Dinner
Arizona Alpha is 100 and we're celebrating!!
Come and share dinner and good times with our
Sisters from Pledge Classes of 1963-1966 and other Pi Phi Sisters on
Thursday, October 26, 2017
in the historic Presidio District of Tucson
Dinner begins at 6 until ???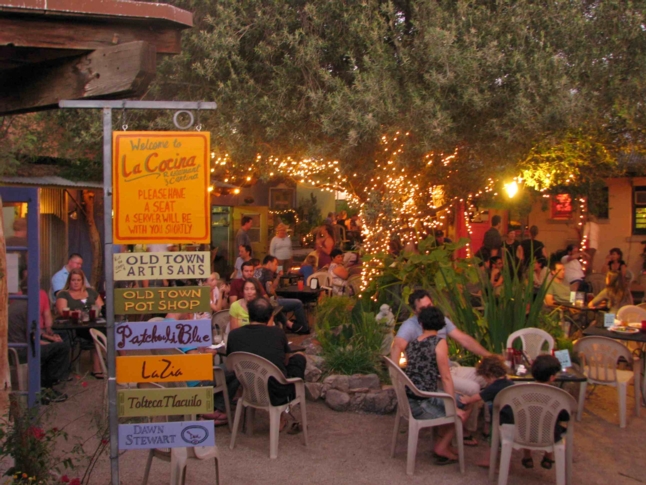 We will have a taco bar on the upper patio which will include chips, salsa and guacamole, beef, chicken or fish tacos with all the trimings, rice, beans, roasted veggies, green salad and non- alcoholic beverages. A cash bar is also available. Click on La Cocina Restaurant (above) to see their website and map of their location.
Reservations are required and will be listed below as received.
Cost is $32 per person
Please send your reservation and check marked "100th Anniv Dinner" payable to Barbara Alf to: Barbara Alf, 645 S 205th Street, Elkhorn, NE 68022
After October 20, call Barbara Alf at 402-660-0137 to confirm your reservation.
LOCATION and TRANSPORTATION
The restaurant is located at 201 N. Court Avenue, Tucson, AZ 85701 in the Presidio District and can easily be accessed from the headquarters hotel near the campus by car or by trolley. There is a map on the La Cocina website. The nearest Trolley stop is only 3 blocks from the restaurant and they run until later than any of us stay up.
Who's Coming (so far) - let's add your name
Leslie Avant
Pam Cohn Greer
Jane DeLapp Harris
Bobette DeLay Dunn
Sharon Fielder Woods
Jacquie Hatch Schmidle
Sidney Hawkins Fay
Susan Jones Brock
Klaire Kaufman Pirtle
Susan Lemons
Helen Lippi Ullmann
Sue Males Miller
Pene Marshall
Riska Platt Wanago
Barbara Pratt Alf
Gail Price Grosetta
Sandie Rutherford
Barbara Sato Brennan
Suzanne Sato Nakashima
Pam Schumacher Gradinger
Linda Simpson Murphy
Linda Spencer Zepp
Jere Stephan Voigt
Bonnie Stewart Rogge
Judy Stewart Corneveaux
Susie Stiles Rhuart
Suzanne Thomas
Noreen Tirrell
Susie Todd Chester
Marcia White Hughes
Dede Wild Leber
Kay Wild